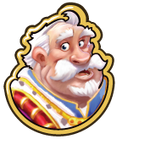 "I was so excited about your new Regally Displayable Dairy Barn, I forgot to eat second breakfast!"
"Cow-Catcher" is quest 6 out of 9 in the The Relatively Dimensional Dairy Barn story line. You get it from The Duke after completing "Feed the Beast".
Tasks
Craft 2 Sweet Milk Pies because the Duke is still hungry.

Make Sweet Milk Pies in your Kitchen.

Use your Barn to milk 10 Cows.

Click on the Dairy Barn to collect from it.

Have 5 Fruit-Filled Munchies to satisfy the Duke's hunger.

Ask your friends for Fruit-Filled Munchies.
Reward
"Magnificent! Much like your Dairy Barn, snack-time was a success!"
For completing this quest you will get

1,500 Coins and

30 XP, as well as 1 Animal Treats. You can then proceed to the Bringing Up the House quest.
Cows a-plenty!
X has secured their cows in a Dairy Barn! They can now feed their Cows and be totally protected from the beasties!
It never hurts to be prepared, however. Click to receive a Wooden Club to fend off the beasties!
Ad blocker interference detected!
Wikia is a free-to-use site that makes money from advertising. We have a modified experience for viewers using ad blockers

Wikia is not accessible if you've made further modifications. Remove the custom ad blocker rule(s) and the page will load as expected.