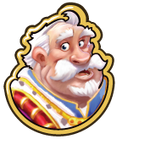 "Giovanni says that we'll be able to milk all our Cows at once using his Rational Dementia Dairy Barn. I don't understand what it is, but it sounds amazing!"
"Cowa-Bungalow!" is quest 2 out of 9 in the The Relatively Dimensional Dairy Barn story line. You get it from The Duke after completing "Crazy Over Cows".
Tasks
Place the Relatively Dimensional Dairy Barn to get started.

Find the Dairy Barn in your Inventory.

Collect 6 Pails of Water for your cows.

Get Pails of Water from fishing.

Have 3 Salt Licks to keep your cows happy.

Task 3 help text goes here
Reward
"Soon, we'll have all the Milk we need for our cookies! This could be Giovanni's greatest invention yet."
For completing this quest you will get

1,000 Coins and

20 XP. You can then proceed to the Demanding Supplies quest.

Another masterpiece!
X has started construction of Giovanni's latest invention!
The foundation is finished, and there are extra Stone Blocks! Click to get some!
Ad blocker interference detected!
Wikia is a free-to-use site that makes money from advertising. We have a modified experience for viewers using ad blockers

Wikia is not accessible if you've made further modifications. Remove the custom ad blocker rule(s) and the page will load as expected.