"Let's make a trap to catch the Giant! Hurry, before it gets dark!"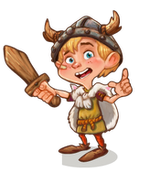 "Creeper Trap" is quest 7 out of 10 in the
Bump in the Night
story line. You get it from
Baz
after completing the "
Fish Dinner
" quest.
Tasks
Craft 6 Ropes to hold everything together.

Craft Ropes at the Workshop.

Have 20 Wood Planks to make a trap big enough for a Giant.

Craft Wood Planks at the Workshop.

Have 5 Bag of Nails to complete the contraption.

Task description here...
Reward
"Uhh... how do you tie this thing? Up through the loop... or down? Don't worry, I'll get it!"
For completing this quest you will get

1,750 Coins,

35 XP and 1 Giant Trap. This completes the Creeper Trap quest. You can then proceed to the "Setting the Trap" quest.
Not Your Average Knot
Knotting knots is not X's specialty. Luckily, Rafael helped build the Giant Trap!
Get a Rope to practice your own knots...or not.
Gallery
Ad blocker interference detected!
Wikia is a free-to-use site that makes money from advertising. We have a modified experience for viewers using ad blockers

Wikia is not accessible if you've made further modifications. Remove the custom ad blocker rule(s) and the page will load as expected.