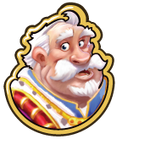 "Now that your application has been accepted by the GEEZERS, you can design your Royal Crest and show it off to all your Neighbors!"
Crest Creation is quest 3 out of 4 in the Heraldry story line. You get it from The Duke after completing The Waiting Game .
Tasks
Create a new Royal Crest that represents your Kingdom

Click on the Flag next to your Kingdom name on the HUD to open the Crest Creation Dialog.

Make the Duke 1 Berry Smoothie to drink while you create your Royal Crest

You can craft a Berry Smoothie in the Kitchen.

Craft 1 Crest Banner to display your new Royal Crest proudly in your Kingdom.

Craft Crest Banners in the Studio.
Reward
"It appears that only the basic Crest symbols have been made available by the GEEZERS. I wonder how we earn more?"
For completing this quest you will get

1,750 Coins and

35 XP. You can then proceed to the Some Assembly Required quest.

Do you have a flag?
X does. And they just finished designing their Royal Crest for it!
Celebrate their unveiling by sharing a batch of Bubbly Grog.
Ad blocker interference detected!
Wikia is a free-to-use site that makes money from advertising. We have a modified experience for viewers using ad blockers

Wikia is not accessible if you've made further modifications. Remove the custom ad blocker rule(s) and the page will load as expected.