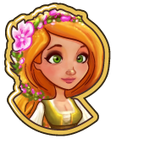 "Before Rafael and I set off looking for the lost Hatchet, we need to take care of a few things... and pack a picnic basket!"
"Day Trip" is quest 5 out of 7 in the Signs of Affection questline. You get it from Yvette after completing "Beautiful Friendship".
Tasks
Fill the Admiration Bar by crafting Picnic Baskets for your outing!

This item can be crafted in the Kitchen.

Clear away 5 Rocks, Grasses or Trees for the picnic.

Clear grasses, bushes, dead logs, rocks, or tree stumps in your Kingdom.

Craft 4 Wood Clubs in case any Beasties interrupt.

This item can be crafted in the Workshop.
Reward
"Everything is ready for our picnic! Let's go and find that lost Hatchet!"
For completing this quest you will get

2,500 Coins and

50 XP. You can then proceed to the His Biggest Fan quest.
Facebook wall post message goes here
Ad blocker interference detected!
Wikia is a free-to-use site that makes money from advertising. We have a modified experience for viewers using ad blockers

Wikia is not accessible if you've made further modifications. Remove the custom ad blocker rule(s) and the page will load as expected.