This page is not finished and needs more work. You are welcome to help finishing it.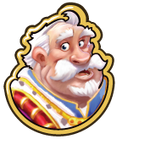 "Let's See if adding some colorful decorations has any effect on how often the Gloom Lord's minions attack."
The "Decoration Distraction" mission is the third mission you get from The Duke during the "Getting Schooled" quest. This is the third mission from a series of 5 mission.
Tasks
| | |
| --- | --- |
| Quest | Goals |
| | Buy three flower pots and place them in your Kingdom as a distraction. |
| | Purchase one Keep Off sign to try and keep the Beasties at bay. |
| | Tax ten houses to see if the Duke's plan is working. |
Reward
For completing this mission you will get

1,000 Coins and

20 XP. You would also be able to start the Stockpile mission.
Ad blocker interference detected!
Wikia is a free-to-use site that makes money from advertising. We have a modified experience for viewers using ad blockers

Wikia is not accessible if you've made further modifications. Remove the custom ad blocker rule(s) and the page will load as expected.