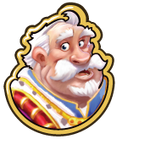 "If Giovanni's Relentlessly Directional Dairy Barn is as bizarre as it sounds, the Cows may need a little... persuading to go inside."
"Demanding Supplies" is quest 3 out of 9 in the The Relatively Dimensional Dairy Barn story line. You get it from The Duke after completing "Cowa-Bungalow!".
Tasks
Clear 3 Grass to help feed your Cows.

Click on Grass to clear it.

Harvest 10 Carrots. The cows aren't the only ones who need supplies.

Click on an Empty Farm Plot to plant Carrots.

Craft 2 Cow Treats to fill the cows with delight when they enter their new home.

Cow Treats can be crafted in the Kitchen.
Reward
"The cows seem willing to enter Giovanni's contraption, after all. Even they can tell how amazing it is!"
For completing this quest you will get

1,500 Coins and

30 XP. You can then proceed to the Relatively Dimensional! quest.

Fully stocked!
X is stocking supplies for the Dairy Barn!
There are extra supplies left over! Click to claim a Tomato!
Ad blocker interference detected!
Wikia is a free-to-use site that makes money from advertising. We have a modified experience for viewers using ad blockers

Wikia is not accessible if you've made further modifications. Remove the custom ad blocker rule(s) and the page will load as expected.