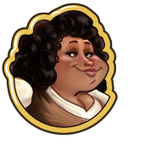 "The Duke is coming over for dinner, but I'm a mess after all that cleaning. Can you help me out, Honey? It's been a while since I got all dressed up."
"Dolled Up" is quest 5 out of 10 in the How Sweet questline. You get it from Mia after completing "?".
Tasks
Have 7 Charm Bracelets.




Harvest 18 Tomatoes

Tomatoes can be planted in an empty farm plot.

Craft 10 Parchment for blotting paper

Parchments can be created in the Studio.
Reward
"Fancy dress, jewelry, makeup? NOW I'm ready for dinner with the Duke!"
For completing this quest you will get

5,250 Coins and

105 XP, as well as 1 Chew Toy. You can then proceed to the Sweets for the Sweet quest.
Mia is tarting herself up...
X is helping Mia put on her face for dinner with the Duke!
Dateless? You can always stay at home and gorge on sweets. Click for some Cocoa!
Ad blocker interference detected!
Wikia is a free-to-use site that makes money from advertising. We have a modified experience for viewers using ad blockers

Wikia is not accessible if you've made further modifications. Remove the custom ad blocker rule(s) and the page will load as expected.