"We all need to feel warm, well-fed, and cared for. Let's be ready to cover the basic essentials."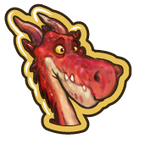 "Domesticating Dragons" is quest 4 out of 11 in the Little Bundle of Fire story line. You get it from Ember after completing "
Wonderful Things
".
Tasks
Craft 1 Dragon Collar for your new baby Dragon.

The Dragon Collar can be crafted in the Studio.

Collect 6 Chicken Meat. Baby Dragons are born hungry!

Feed adult Chickens for a chance at finding Chicken Meat.

Buy 4 new Decorations to brighten the baby's room!

Decorations can be found in the Decor tab of the Market.
Reward
"You're well on your way to parenthood! Are you getting nervous? I am!"
For completing this quest you will get

1,750 Coins and

35 XP. You can then proceed to the Trial By Fire quest.
Out on a leash.
X made a Dragon Collar for their pet Dragon.
Click to get some Rope to start making a leash of your own!
Ad blocker interference detected!
Wikia is a free-to-use site that makes money from advertising. We have a modified experience for viewers using ad blockers

Wikia is not accessible if you've made further modifications. Remove the custom ad blocker rule(s) and the page will load as expected.