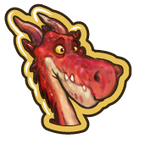 "Baby Dragons are a fiery bunch! They don't always have the best flame-control. You'll need plenty of water in case of accidents!"
"Dousing the Flames" is quest 2 out of 11 in the Little Bundle of Fire story line. You get it from Ember after completing the "Glowing Ember" quest.
Tasks
Have 3 Steel Pipes to start routing water throughout the Kingdom.

Ask Friends for Steel Pipes. You can also get this from fishing.

Have 1 Cotton Cloth to keep soaked.

Task description here...

Place 2 Moats.

Moats can be found in the Market in the Nature section.
Reward
"Hmmm... with all this water, now we're in danger of CAUSING the baby to have a different kind of accident. Hehe!"
For completing this quest you will get

1,000 Coins and

20 XP, as well as 1 Super Chop. You can then proceed to the "Wonderful Things" quest.

Water, water everywhere....
X's Kingdom is overflowing!
Looks like that was a little TOO much water. Click to get a Pail of Water for yourself!
Ad blocker interference detected!
Wikia is a free-to-use site that makes money from advertising. We have a modified experience for viewers using ad blockers

Wikia is not accessible if you've made further modifications. Remove the custom ad blocker rule(s) and the page will load as expected.