"You really fixed up this place. Old Gloom and Doom must be so mad! Now you just need some COLOR!"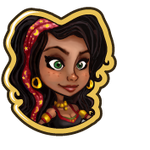 "Drab to Fab" is quest 2 out of 10 in the
Party Girl
story line. You get it from
Izadora
after completing
New Scene
.
Tasks
Tend Flowers 1 time each in 3 different Neighbor's Kingdoms.

Visit Neighbors and click on flowers to smell them.

Buy 6 Flowers to add a splash of color to your Kingdom.

Buy 6 Flowers from the market.

Have 7 Regal Hoes to tend your new garden.

Ask Friends for 7 Regal Hoes. You can also get this from fishing.
Reward
I always say you can never have too much color. Let's turn that Gloom to GLAM, whaddaya say?
For completing this quest you will get

1,000 Coins and

20 XP. You can then proceed to the "Shopping Spree" quest.

You can never have too much color in your garden!
X took Izzy's advice and spruced up Nicholus's Kingdom.
Grab some leftover flowers! Hurry before they wilt!
Gallery
Ad blocker interference detected!
Wikia is a free-to-use site that makes money from advertising. We have a modified experience for viewers using ad blockers

Wikia is not accessible if you've made further modifications. Remove the custom ad blocker rule(s) and the page will load as expected.