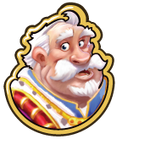 "If we're lucky and this egg belongs to a nice Dragon, the least we can do is give her baby a proper Nest."
"Draggin' Your Feet" is quest 9 of 10 in the Eggstraordinary Evidence story line. You get it from The Duke after completing the "Holy Smokes!" quest.
Tasks
Have 10 Dragon Scales to simulate a mother's touch.

You can get Dragon Scales by asking Friends. You can also get this from fishing.

Have 3 Milk Bottles. Just in case....

You can get Milk Bottles from Adult Cows.

Build a Dragon Nest for the baby Dragon!

Click on the Giant Egg to build a Dragon Nest for it.
Reward
"That is one handsome Dragon's Nest. Good thing we've taken such good care of this Egg - the last thing we need in our Kingdom is an angry mother Dragon!"
For completing this quest you will get

1,750 Coins and

35 XP. You can then proceed to the "Better Beastie Banishment" quest.
X is fireproof!
With Dragons around you can never get too wet!
Here's a Pail of Water to keep you moist.
Gallery
Ad blocker interference detected!
Wikia is a free-to-use site that makes money from advertising. We have a modified experience for viewers using ad blockers

Wikia is not accessible if you've made further modifications. Remove the custom ad blocker rule(s) and the page will load as expected.