"Ok, maybe singing isn't my calling. I'm sure I can act. Everyone always says I'm DRAMATIC!"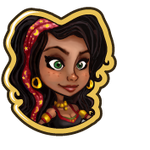 "Drama Queen" is quest 8 out of 11 in
The Diva
story line. You get it from
Izadora
after completing the "
Low Note
" quest.
Tasks
Buy 6 Decoration Objects as props for Izzy's play.

Buy Decorations from the Market.

Harvest 60 Crops in case Izzy doesn't do so well.

Harvest crops on Farm Plots to ensure there's nothing to throw at Izzy.

Harvest 1 crop each in 6 different Neighbors' Kingdoms.

Visit 6 Neighbors' Kingdoms and Harvest 1 crop. Don't leave them any ammo!
Reward
"I can't BELIEVE they all fell asleep. At least you made sure they didn't throw rotten veggies at me!"
For completing this quest you will get

3,250 Coins and

65 XP. You can then proceed to the "Graceful" quest in The Diva story line.
And the award DOESN'T go to...
Everyone in X's Kingdom turned out to see Izzy start acting. Too bad no one stayed to see her finish.
Get a free Tomato to keep or throw.
Gallery
Ad blocker interference detected!
Wikia is a free-to-use site that makes money from advertising. We have a modified experience for viewers using ad blockers

Wikia is not accessible if you've made further modifications. Remove the custom ad blocker rule(s) and the page will load as expected.