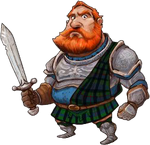 "To become one with your inner Dragon, you must eat like one. Yes, I said eat like one! Hold your nose if you have to, but get it down!"
"Eating Like A Dragon" is quest 4 of 10 in the A Dragon State of Mind story line. You get it from Tom after completing the "Sleeping Like A Dragon" quest.
Tasks
Have 4 Chicken Meat. Dragons love to eat Chickens.

Task description here...

Collect 15 Bass and eat them raw!

You can collect Bass by fishing in Ponds.

Dragons love Sheep. Tend Sheep 5 times and see what the fuss is all about.

You can tend Sheep by clicking on them.
Reward
"It took ten years for my stomach to adjust to the Food of the Dragon. The gas alone cost me several friends, but it was worth it!"
For completing this quest you will get

1,500 Coins and

30 XP. You can then proceed to the "Hoarding Like A Dragon" quest.

Bizarre Appetite
Tom is teaching X how to eat like a Dragon.
Try it yourself with this Chicken Meat.
Gallery
Ad blocker interference detected!
Wikia is a free-to-use site that makes money from advertising. We have a modified experience for viewers using ad blockers

Wikia is not accessible if you've made further modifications. Remove the custom ad blocker rule(s) and the page will load as expected.