"I thought that Gloom Goblins were bad! Nothing compared to the likes of these Gloom Orcs!"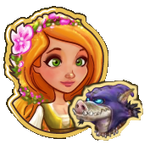 "Eau De Gloom Orc" is quest 1 out of 10 in the
Enter: The Gloom Swamp!
story line.
Tasks
Quest Image
Task
Skip

Banish 1 Gloom Orc

Holding your breath is optional...

? Crowns

Sell 3 Honey

Obtain Honey by tending flowers.

? Crowns

Collect 7 Ogre's Belches to help you get used to the smell of the Gloom Orcs.

Clear Grass or tend Roots to gather Ogre's Belches.

? Crowns
Reward
For completing this mission you will get 1,500 Coins and 30 XP.

"And I thought they smelled bad on the outside! Banishing a Gloom Orc leaves a very...interesting scent."

Swamp Training
X is getting geared up for an adventure into an unknown Gloom Swamp!
Take this extra honey. X can't bring it into the swamp - bugs will get them!
Ad blocker interference detected!
Wikia is a free-to-use site that makes money from advertising. We have a modified experience for viewers using ad blockers

Wikia is not accessible if you've made further modifications. Remove the custom ad blocker rule(s) and the page will load as expected.