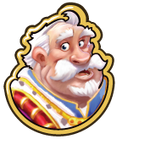 "Hmmm... The only way to determine who - or what - this Egg belongs to is to use scientific deduction! Let's research this."
"Egging Him On" is quest 2 out of 10 in the Eggstraordinary Evidence story line. You get it from The Duke after completing "Chicken or the Egg? ".
Tasks
Make 3 Grape Juice to have something to drink while doing all this research.

Make Grape Juice in the Kitchen.

Feed 10 Animals to study them.

Click on any Animal to feed it.

Have 3 Science Periodicals.

Ask a Friend of Science Periodicals. You can also get this from fishing.
Reward
"I deduce that this is the egg of a Unicorn!"
For completing this quest you will get

1,500 Coins,

30 XP and 1 Super Clobber. You can then proceed to the The Unicorn Egg quest.

Elementary, my dear!
X is solving perhaps the greatest mystery ever.
Solve your own mystery with this Alchemist Powder (great for taking fingerprints.)
Gallery
Ad blocker interference detected!
Wikia is a free-to-use site that makes money from advertising. We have a modified experience for viewers using ad blockers

Wikia is not accessible if you've made further modifications. Remove the custom ad blocker rule(s) and the page will load as expected.