The next stage of your Great Hall is in reach. Make me proud!
The Great Hall: 14 of 20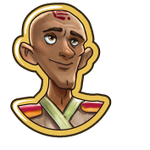 "Even Greater" is a mission you get from
Alastair
. You get this mission right after finishing the "
Get Resourceful
" mission. This is the 14th mission from a series of
20
missions for
The Great Hall
.
Tasks
Quest

Goals

Keep seeking knowledge. Reach level 13.

Get your Castle to 300.

Continue construction of the Great Hall.

(Gather materials to complete the next stage of construction - 2 iron bars and 5 hammers).
Reward
Well done. Your Great Hall is almost in reach!
For completing this mission you will get 1000 Coins and 20 XP. You will also be able to start the Earn Your Keep mission.
Ad blocker interference detected!
Wikia is a free-to-use site that makes money from advertising. We have a modified experience for viewers using ad blockers

Wikia is not accessible if you've made further modifications. Remove the custom ad blocker rule(s) and the page will load as expected.