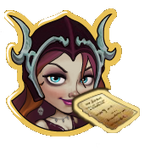 "Gloom is a good start, but lovely letters would warm Faugrimm's heart. And by lovely, I mean evil."
"Evil Intentions" is quest 4 out of 9 in the Bachelorette quest line. You get this quest from Hazel after completing the "Beastie Party" quest.
Tasks
Have 10 Love Letters.

Ask Friends for Love Letters.

Craft 4 Bottles of Ink to change the letter's wording to be Letters of Evil Intentions.

Craft this in the Studio.

Fish 6 times in a Neighbor's Kingdom to have a few bass to make the Letter smell... nice.

Visit Neighbors and click on their Pond to catch fish.
Reward
"Faugrimm will want to read these letters over and over!"
For completing this quest you will get

750 Coins and

15 XP. You would also be able to start the "Hate Potion No. 9" quest.
How... sweet?
X helped Hazel express her feelings.
Coins can't buy you love... but they don't hurt!
Ad blocker interference detected!
Wikia is a free-to-use site that makes money from advertising. We have a modified experience for viewers using ad blockers

Wikia is not accessible if you've made further modifications. Remove the custom ad blocker rule(s) and the page will load as expected.