"With Mia on her way, our Kingdoms should look their best! It's about time I put up those old Yulefest decorations."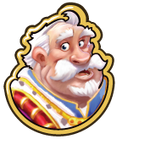 "Extreme Kingdom Makeover" is quest 5 out of 10 in the
Spread the Love
story line. You get it from
The Duke
after completing "
Her Favorite Things
".
Tasks
Collect 10 Pails of water to scrub down the kingdom.

Fish in Fishing Ponds to find Pails of Water.

Tend 15 Houses in your Neighbors' Kingdoms to check out the latest styles.

Click on Houses in your Neighbors' Kingdoms to tend them.

Have 3 Rose Petals in your Kingdom and pave the way for Mia's arrival.

Go to the Decorations section of the Market to buy Rose Petals.
Reward
"The Kingdom looks beautiful! I think pink might just be my color."
For completing this mission you will get

750 Coins and

15 XP, as well as 1 Fertilizer . You can then proceed to the Common Scents quest.

X is doing some remodeling!

X is redecorating their Kingdom for Valentine's Day.
Get a free Flower Box to decorate your Kingdom!
Ad blocker interference detected!
Wikia is a free-to-use site that makes money from advertising. We have a modified experience for viewers using ad blockers

Wikia is not accessible if you've made further modifications. Remove the custom ad blocker rule(s) and the page will load as expected.