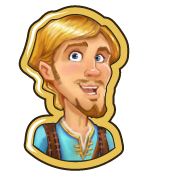 "I miss those sights, perhaps you can decorate with these delights?"
"Eye Delight" is quest 3 out of 3 in the Chinese New Year quest line. You get this mission from Quinn after completing Sea Sick .
Tasks
Quest

Goals

Buy 5 Far East Decor items for your Kingdom.

Buy in the Decor tab of the Market.

Get 5 Wood Logs to make Quinn a new Lute.

Chop trees for Wood Logs.
Reward
"I saw wonders you wouldn't believe - mountains and temples and huge striped kitties!"
For completing this quest you will get

500 Coins and

10 XP, as well as 1 Dragon Head Statue.
Ad blocker interference detected!
Wikia is a free-to-use site that makes money from advertising. We have a modified experience for viewers using ad blockers

Wikia is not accessible if you've made further modifications. Remove the custom ad blocker rule(s) and the page will load as expected.