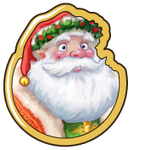 The eighth of twelve missions in the
Save the Holiday
quest chain obtained from
Kris Kringle
. It immediately follows the
Present Tense
mission.
Quest Text
Oh-ho! I think Rafael is on to something. The Beasties might be fooled by decoy presents!
Tasks
Quest
Goals

Craft 4 Holiday Decoys that will attract some Beasties.

This item can be crafted after you build a Workshop. Buy Crafting buildings in the Market.

Have 3 Unicorn Sparkle to really make those Holiday Decoys attractive to the Beasties.

Ask Friends for Unicorn Sparkle. You can also get this from fishing.

Have 4 Holiday Decoys in your Kingdom. Beasties can bite these for days with no damage to them.

Craft them in your Workshop, then place them from your Inventory.
Reward
The Holiday Decoys might just work! I have a feeling we'll find out soon.
For completing this mission you will get

500 Coins and

10 XP. You will also be able to start Out on a Limb mission.
Tips
You can obtain Berries (required for crafting the Holiday Decoys) by clearing grass and tending roots & mushrooms, not only in your Kingdom but in your Neighbors' Kingdoms as well.
Ad blocker interference detected!
Wikia is a free-to-use site that makes money from advertising. We have a modified experience for viewers using ad blockers

Wikia is not accessible if you've made further modifications. Remove the custom ad blocker rule(s) and the page will load as expected.