"It's time for me to return to my family. Would you mind helping me pack for the journey home?"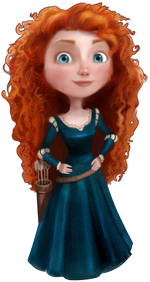 Farewell, Merida
is quest 9 out of 9 in the
Brave
story line. You get it from
Merida
after completing "
Sticky Fingers (Brave)
".
Tasks
Win 1 of all new rewards at the Tournament Target.

There are all new rewards for you to earn!

Craft 4 Hard boiled Eggs. Merida may need a snack on the way home.

Craft Hard Boiled Egg in the Kitchen. You can buy a Kitchen in the Market.

Have 10 Traveler's Pouches for Merida's journey.

Ask friends for Traveler's Pouches. And no, it's not a purse. You can also get ths from fishing.
Reward
"Don't forget to practice your archery while I'm gone. There are many more bullseyes to hit... and prizes to be won!"
For completing this quest you will get

1,000 Coins and

20 XP, as well as 1 Mossy Bridge.

Farewell, Merida
X sent Merida off back to her Kingdom.
Will fate bring her back to their Kingdom?
Ad blocker interference detected!
Wikia is a free-to-use site that makes money from advertising. We have a modified experience for viewers using ad blockers

Wikia is not accessible if you've made further modifications. Remove the custom ad blocker rule(s) and the page will load as expected.