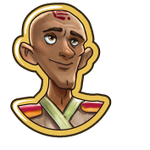 "If we can adequately prepare your Kingdom we can thwart Faugrimm's plan."
"Faugrimm's Sinister Schemes" is quest 6 out of 10 in the The Book of Sinister Schemes, Part I questline. You get it from Alastair after completing "Triple Digit Heat".
Tasks
Water! We're going to need lots of it! Get 25 Pails of Water.

Collect Pails of Water from Ponds by Fishing in them.

Have 10 Moat or River Tiles in your Kingdom.

Task 2 help text goes here

Maybe we can store some water in one of Giovanni's fish bowls. Craft 1 Infinity Fish Bowl.

Craft an Infinity Fish Bowl at a Studio after you build a Glassblower.
Reward
"Your preparation is going well. Continue on your current path. I will consult Faugrimm's vile Book once more and see if I can learn anything else."
For completing this quest you will get

5,250 Coins and

105 XP. You can then proceed to the Lifting the Shroud quest.
Facebook wall post message goes here
Ad blocker interference detected!
Wikia is a free-to-use site that makes money from advertising. We have a modified experience for viewers using ad blockers

Wikia is not accessible if you've made further modifications. Remove the custom ad blocker rule(s) and the page will load as expected.