"I can't wait to get to this Lamont! This Gloom Swamp's stench is truly revolting! It'll be MINUTES before I regain my appetite!"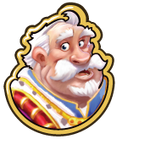 "Finding Lamont" is quest 5 out of 8 in
The Lamont Swamp
story line. You get it from
The Duke
after completing "
Preparation
".
Tasks
Explore to find the mysterious Lamont!

Click the Gloomed Swamp area to expand there.

Banish any Beasties you find. Well, at least 4.

Click on Beasties to Banish them.

Show Lamont you mean buisness and Cleanse 3 of his Swamp Roots.

Click the Gloomed Swamp are to expand there.
Reward
"Now we've got Lamont right where we want him! All this excitement is making me RAVENOUS!"
For completing this quest you will get

500 Coins and

10 XP. You can then proceed to the "Odd Pod" quest.

X is staring into the face of danger!
Lamont can no longer hide behind the Gloom, but the fight is far from over.
Pick up a Crystal Shard and join the fight against the Gloom!
Gallery
Ad blocker interference detected!
Wikia is a free-to-use site that makes money from advertising. We have a modified experience for viewers using ad blockers

Wikia is not accessible if you've made further modifications. Remove the custom ad blocker rule(s) and the page will load as expected.