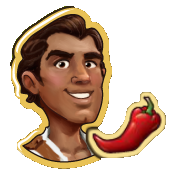 Fire Eater is mission 3 out of 10 in the Adventure Club Quest story line. You get this mission from Rafael after completing Hunter Meet Hunted.
Quest Text
An adventurer must demonstrate the power of mind over matter...fire eating! Please, help me prepare!
Tasks
Quest
Goals

Harvest 20 Chili Peppers.

Click on Farm Plots and buy the number of Chili Peppers crops you need.

Have 2 Spicy Sausage.

This item can be crafted after you build a Kitchen and a Butcher.

Have 20 Milk Bottles... in case it gets too much.

Get Milk Bottles from feeding Adult Cows.
Reward
"ah, oo, ee! I believe it is enough that I did it. I do not regret a thing. Well, not true, maybe tomorrow I will."
For completing this mission you will get

5,250 Coins and

105 XP. You will also be able to start Interruptive Dance quest.

X likes it hot!
X's mouth is on fire and is sharing some Milk to cool it off!
Milk never tasted so good! Got some?
.
Ad blocker interference detected!
Wikia is a free-to-use site that makes money from advertising. We have a modified experience for viewers using ad blockers

Wikia is not accessible if you've made further modifications. Remove the custom ad blocker rule(s) and the page will load as expected.