"We'll need some Hard-Boiled Eggs and Bass. The Giant will think the Hard-Boiled Eggs are its missing eye. And the Bass, well, you'll see!"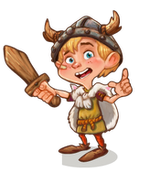 "Fish Dinner" is quest 6 out of 10 in the
Bump in the Night
story line. You get it from
Baz
after completing the "
Big Foot?
" quest.
Tasks
Have 5 Bass, extra smelly.

Task description here...

Have 6 Hard-Boiled Eggs, they jiggle like eye balls!

Craft Hard-Boiled Eggs in the Kitchen.

Tend 15 houses in Neighbors' Kingdoms. Check for Giants while you are there.

Clik on Houses in Neighbors' Kingdoms to tend to them.
Reward
"The Giant ate the Bass! And the Hard-Boiled Eggs are gone too! Now we can catch it by following its fish-breath!"
For completing this quest you will get

1,000 Coins and

20 XP. This completes the Fish Dinner quest. You can then proceed to the "Creeper Trap" quest.

A Beast of a Nightmare
With monsters lurking in the shadows, X can't help but wonder what's out there!
Take this Candle to light up the darkness.
Gallery
Ad blocker interference detected!
Wikia is a free-to-use site that makes money from advertising. We have a modified experience for viewers using ad blockers

Wikia is not accessible if you've made further modifications. Remove the custom ad blocker rule(s) and the page will load as expected.