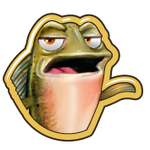 "Before I show you the secrets of the universe, I need you to prove to me that you're fish-friendly."
"Fish In A Tub" is quest 1 out of 8 in the Sink or Swim questline. You get it from Sal. The quest was introduced on September 5th, 2012.
Tasks
Place Sal's Tub in your Kingdom to bring him out of hiding.

Look for Sal's Tub in your Inventory.

Have 4 Pails of Water to freshen up Sal's Tub.

Fish in ponds to find Pails of Water.

Place 2 Dead Logs in your Kingdom. The grubs inside are a delicacy for fish.

Buy Dead Logs in the Market.
Reward
"Not bad, human. You may turn out to be useful, but we're just getting started."
For completing this quest you will get

2,000 Coins and

40 XP. You can then proceed to the Catch and Release quest.
Facebook wall post message goes here
Ad blocker interference detected!
Wikia is a free-to-use site that makes money from advertising. We have a modified experience for viewers using ad blockers

Wikia is not accessible if you've made further modifications. Remove the custom ad blocker rule(s) and the page will load as expected.