"Yuck! The humidity is almost as bad as the smell. We must be getting close!"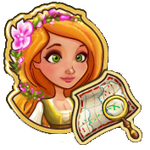 "Fit for a Swamp" is quest 2 out of 10 in the
Enter: The Gloom Swamp!
story line. You get it from
Yvette
after completing
Eau De Gloom Orc
.
Tasks
Quest Image
Task
Skip

Regain some strength by consuming 3 Grape Juice

This item can be crafted in the Kitchen!

? Crowns

Have 3 Fly Swatters. Industrial strength.

Ask Friends for Fly Swatters. You can also get this from fishing.

? Crowns

Once you are ready, explore into the Gloom Swamp.

You must have Exploration Crystals, Coins, and a specific Castle Level to explore.

? Crowns
Reward
For completing this mission you will get 1,500 Coins and 30 XP.

"This is it! The Gloom Swamp entrance! What went wrong here?"
It's getting hot in here...
Hopefully X doesn't take off their ___
Use these grapes to make a refreshing beverage!

Ad blocker interference detected!
Wikia is a free-to-use site that makes money from advertising. We have a modified experience for viewers using ad blockers

Wikia is not accessible if you've made further modifications. Remove the custom ad blocker rule(s) and the page will load as expected.