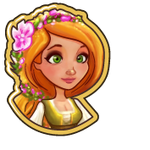 The "Flies to Honey" is a mission you get from Yvette. You get this mission right after finishing the Purple Drink mission. This is the 1st mission from a series of 14 missions from the Lovelorn Quest.
Prerequisites
You must obtain level 14 before receiving this quest
Tasks
Quest Image
Task
Skip

Clear 7 Grass to help Yvette find a frog to kiss

Clearing grass in your neighbors' kingdoms counts towards this!

? Crowns

Fish 10 times in a neighboring kingdom to try and catch a frog

? Crowns

Collect 15 Honey to help make the kiss less gross

Tend to flowers to collect Honey

? Crowns
Reward
For completing this mission you will get 1,000 Coins and 20 XP.

| | |
| --- | --- |
| Previous Goal | Next Goal |
| This is the first goal. | Beauty Rest |
Tips
You can fish multiple time in the same neighbor's kingdom (as long as you have energy for that neighbor). Simply fish once, return home (or visit any other kingdom), and visit the same neighbor again.
Ad blocker interference detected!
Wikia is a free-to-use site that makes money from advertising. We have a modified experience for viewers using ad blockers

Wikia is not accessible if you've made further modifications. Remove the custom ad blocker rule(s) and the page will load as expected.