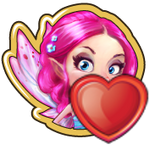 Flight for your Right
is mission 8 out of 10 in the
A Fairy's Tale
story line. You get this mission from
Sylphie
after finishing the
Do Not Want
mission.
Quest Text
We Fairies also like to party. I party. Hard.
Tasks
Quest
Goals

Spend 80 or more Reputation Points.

Tips: Visit Neighbors and do activities in the Kingdom to earn Reputation Points.

All Fairies have harps. Everyone knows that. Have 1 Faun's Harp.

Tips: Buy in the Decor tab of the Market.

Get 4 Alchemist Powder to add some pizzazz to the party.

Tips: Perform actions in a Neighbor's Kingdom for a chance to get Alchemist Powder as a reward.
Reward
That was quit [sic] a party! Wait. How did I get here? Why am I wearing pants?
For completing this mission you will get

1,500 Coins and

30 XP. You would also be able to start the Pint Sized Feast mission.
Notes
Use the Reputation Points to buy Gloom Rat Potions. You will need to banish many Gloom Rats in the next quest.
Ad blocker interference detected!
Wikia is a free-to-use site that makes money from advertising. We have a modified experience for viewers using ad blockers

Wikia is not accessible if you've made further modifications. Remove the custom ad blocker rule(s) and the page will load as expected.