"Daddy's favorite? Oh! His favorite flowers! Let's find some - Uh-oh...I think some Beasties are lurking!"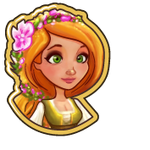 The 5th of 10 missions in the Father's Love quest chain obtained from Yvette. It immediately follows the Housekeeping mission.
Tasks
Quest Image
Task
Skip

Have 8 Regal Hoes to help with the clearing.

Ask Friends for Regal Hoes

? Crowns

Tend the flowers near Yvette's Old Farmhouse.

Flowers take some time until you can tend them again.

? Crowns

Banish 5 Beasties, nasty creatures of the Gloom.

Click on Beasties to banish them!

? Crowns
Reward
For completing this mission you will get 2,500 Coins and 50 XP.

"I love the way these flowers smell. You found another note? It must be another clue!" Second Note
Tips
You can find the Second Note where Yvette's Old Farmhouse is located.
Ad blocker interference detected!
Wikia is a free-to-use site that makes money from advertising. We have a modified experience for viewers using ad blockers

Wikia is not accessible if you've made further modifications. Remove the custom ad blocker rule(s) and the page will load as expected.