"Dragons are wonderful fliers. Let's build wings and leap from somewhere dangerously high. Go big, or go home!"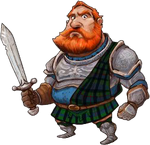 Fly Like a Dragon
is quest 9 out of 10 in the
A Dragon State of Mind
story line. You get it from
Tom
after completing "
Abducting Like a Dragon
".
Tasks
Collect 25 Red Feathers to use on your wings.

Tend adult Peacocks to get some Red Feathers. You can also get this from fishing.

Craft 12 Wood Planks to help fortify your wings.

Craft Wood Planks at the Workshop.

Mine 15 Rocks and see if any are tall enough to jump from.

Click on rocks to mine them.
Reward
"These wings look perfect. Let's jump from this ledge and test them out! Of course, I will go first and you must soon follow..."
For completing this quest you will get

1,750 Coins and

35 XP. You can then proceed to the In Pain... Like a Dragon? quest.

It's a bird! It's a plane!
No, it's just X trying to learn how to fly!
Take this Red Feather and make your own wings!
Ad blocker interference detected!
Wikia is a free-to-use site that makes money from advertising. We have a modified experience for viewers using ad blockers

Wikia is not accessible if you've made further modifications. Remove the custom ad blocker rule(s) and the page will load as expected.