"With a bit of mental preparation and encouragement, I'll be unstoppable in the eating competition!"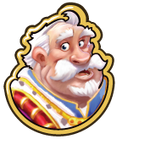 "Food Fight!" is quest 5 of 5 in the
Duke Vs. Food
story line. You get it from
The Duke
after completing the "
Anything Goes
" quest.
Tasks
Quest Image
Task
Skip

Water your Saplings 5 times to help the Duke enjoy the serenity of nature.

Saplings can be purchased in the Market.

20 crowns Crowns

Craft 3 Tomato Bisque Soup to warm the Duke's heart.

Tomato Bisque Soup can be crafted in a Kitchen.

45 crowns Crowns

Harvest 15 Crops in Neighbors' Kingdoms. The Duke needs all the food he can get!

Harvest any crop in a Neighbor's Kingdom.

45 crowns Crowns
Reward
For completing this mission you will get 1,750 Coins and 35 XP. In this goal you get 1 Ice Cream Sandwich as a reward.

| | |
| --- | --- |
| Previous Goal | Next Goal |
| Anything Goes | This is the last goal for now. Congratulations! |
Reward
"I'm well on my way to victory. Wish me luck!"
For completing this quest you will get

1,750 Coins,

35 XP and 1 Ice Cream Sandwich. This completes the Duke Vs. Food storyline.
A Light Snack
X is trying to get the Duke to slow down before his big eating competition!
Get some Carrots to convince the Duke to save some room for the competition.
Gallery
Ad blocker interference detected!
Wikia is a free-to-use site that makes money from advertising. We have a modified experience for viewers using ad blockers

Wikia is not accessible if you've made further modifications. Remove the custom ad blocker rule(s) and the page will load as expected.