"At last, my Faugrimm and I are together! Looks like I won't need my tower anymore... feel free to thaw it out and add it to your Kingdom!"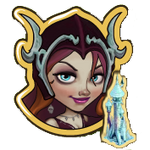 "Foul Farewell" is quest 9 out of 9 in the Bachelorette story line. You get it from Hazel after completing "How Thoughtful ".
Tasks
Craft an Epic Ice Pick to bring down the Witch's Tower!

You can craft an Epic Ice Pick in the Workshop.

Have 5 Yeti Potions, these are hot stuff when used together.

This item can be crafted in the Workshop.

File:Hazels Tower.png

Bring down Hazel's Tower.

Once you have the Epic Pick and the Yeti Potions, click on Hazel's Tower to melt it down.
Reward
"Thanks so much for your help! If I visit your Kingdom one day and cause some trouble, no hard feelings, right?"
For completing this quest you will get

1,500 Coins ,

30 XP and 1 Witch's Tower.
Moving' on out...
X's match-making was successful!
Hazel is moving in with her love. Grab 250 Coins to celebrate!

Ad blocker interference detected!
Wikia is a free-to-use site that makes money from advertising. We have a modified experience for viewers using ad blockers

Wikia is not accessible if you've made further modifications. Remove the custom ad blocker rule(s) and the page will load as expected.