"It can't be comfortable inside that tree. Let's chop him out of there!"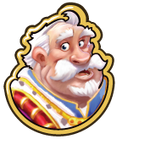 "Free At Last!" is quest 8 out of 8 in
The Lamont Swamp
story line. You get it from
The Duke
after completing "
Lamont's Demise
".
Tasks
Use 3 Super Chop in case other evil trees get any funny ideas.

Choose a tree with the most chops left to get the most out of your Super Chop!

Free the trapped boy inside of Lamont.

Clik on Lamont to free the trapped boy.

Gain 150 XP to show the trapped boy you won't be leaving him.

Gain XP by doing tasks around your Kingdom or by completing quests.
Reward
"Do you think he'll want a doughnut? I know I do."
For completing this quest you will get

500 Coins and

10 XP. You can then proceed to the "Smell The Roses" quest in the Occupational Hazard storyline for Baz.

Treehouse of Terror
It's the first Treehouse X has ever wanted to avoid! Good thing they got Baz out of there.
Get some Wood to construct a more pleasant treehouse.
Gallery
Ad blocker interference detected!
Wikia is a free-to-use site that makes money from advertising. We have a modified experience for viewers using ad blockers

Wikia is not accessible if you've made further modifications. Remove the custom ad blocker rule(s) and the page will load as expected.