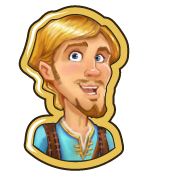 "If it was just my call, I'd build a stronger wall. I could use some fresh air so lets pitch in."
"Fresh Air and Hard Work" is mission 2 out of 5 in the Traveling Bard story line. You get this mission from Quinn after finishing the Out of the Gloom mission.
Tasks
Quest

Goals

Collect from your Mining Camps 4 times.

Click on Mining Camps in your Kingdom to collect Stone.

Have 6 Stone Walls to protect your Castle.

Buy from the Walls tab of the Decorations section in the Market.

Collect from Mining Camps in 3 different Neighbors' Kingdoms.

Visit 3 different Neighbors and click on Mining Camps with Coins above them.
Reward
The Castle is stronger now, but I suggest you keep strengthening it. I don't know what is coming.
For completing this mission you will get

2,000 Coins and

40 XP. You would also be able to start the Lost and Replaced mission.
Gallery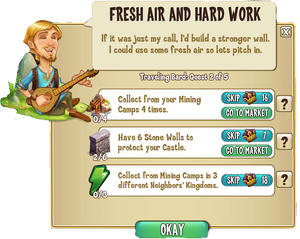 Ad blocker interference detected!
Wikia is a free-to-use site that makes money from advertising. We have a modified experience for viewers using ad blockers

Wikia is not accessible if you've made further modifications. Remove the custom ad blocker rule(s) and the page will load as expected.