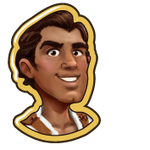 "My heart, it tells me to love Yvette for who she is. I need a gift that shows her I know what she loves, and I love her for it!"
"From the Heart" is quest 9 out of 9 in the Rafael & Yvette Go Steady questline. You get it from Rafael after completing "Rafael's Passion".
Tasks
Have 8 Bouquets of Roses. Yvette loves flowers!

Ask Friends for Bouquets of Roses.

Craft 1 Teddy Bear to show Yvette how Rafael really feels.

Craft this at the Studio.

Place the Teddy Bear decoration in your Kingdom.

Place the Teddy Bear from your Inventory.
Reward
"I haven't been so nervous since that time I crossed a river on the back of a sleeping Gloom Croc! Well... wish me luck, my friend."
For completing this quest you will get

2,500 Coins and

50 XP, as well as 1 Small Energy Potion.
Facebook wall post message goes here
Ad blocker interference detected!
Wikia is a free-to-use site that makes money from advertising. We have a modified experience for viewers using ad blockers

Wikia is not accessible if you've made further modifications. Remove the custom ad blocker rule(s) and the page will load as expected.