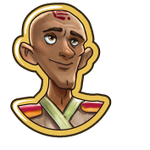 "Advanced curses can beset a Kingdom in no time. We must continue to protect yours from such maladies."
"Get Your Mojo Working" is quest 3 out of 8 in the Curse Wards story line. You get it from Alastair after completing "Incense Research".
Tasks
Fill the Disastroux Unfortunado Ward bar crafting Mojo bags.

Craft Mojo Bags in the Studio.

Fill the Disastroux Unfortunado Ward bar by crafting Good Luck Totems.

You must finish the Ward against the Nerden Mongeek Curse before you can craft Good Luck Totems in the Workshop.

Get something to seal the curses away with. Collect 15 Beeswax.

Beeswax can be gathered from tending Flowers and Bushes.
Reward
"By magically protecting your Kingdom against curses, you have made your lands a safer place. Still there remains work to be done."
For completing this quest you will get

1,000 Coins and

20 XP. You can then continue crafting wards and collect rewards.
All the curses have been foiled again!
X's Kingdom is becoming curse-proof!
How sweet it is. Have some Sugar!!
Ad blocker interference detected!
Wikia is a free-to-use site that makes money from advertising. We have a modified experience for viewers using ad blockers

Wikia is not accessible if you've made further modifications. Remove the custom ad blocker rule(s) and the page will load as expected.