"Feathers are fine, but instead, let's give your costume a giant head!'"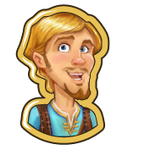 "Getting A Head" is quest 3 out of 3 in the Carnival Quinn story line. You get it from Quinn after completing "
Pieces of Flair
".
Tasks
File:OgresBelch.png

Have 5 Ogre's Belch to help inflate your new costume.

Task 1 help text goes here

Gather 3 Pails of Water to make some paste for your costume.

Fish in a Pond to gather Pail of Water.

Have 2 Wool Thread to sew up the costume.

Craft in a Studio.
Reward
"Carnival is in full swing! Don't hit your giant head on anything!"
For completing this quest you will get

750 Coins and

15 XP, as well as 1 Giant Costume Head (male and female).
Facebook wall post message goes here
Ad blocker interference detected!
Wikia is a free-to-use site that makes money from advertising. We have a modified experience for viewers using ad blockers

Wikia is not accessible if you've made further modifications. Remove the custom ad blocker rule(s) and the page will load as expected.