"You have the chance to break Bjorn of Uln's all-time record for Gloom Dragons trapped. Achieve it and people will really, really like you!"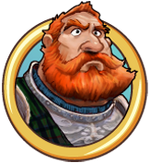 "Getting Older" is quest 4 out of 4 in the
A Knight's Tale
story line. You get it from
Tom
after completing "
Passing the Torch
".
Tasks
Get 16 Mystic Winds so you can put out Gloom Flames.

Craft Mystic Wind in the Beastie Lab.

Fill the Renown Bar fully by banishing Gloom Dragons with Myrick's Flask.

Activate Myrick's Flask to banish a Gloom Dragon and fill the Renown Bar.

Put on your shiney new Mythium armor!

Click on the Avatar Customizer to change your character's outfit.
Reward
"You have banished 14 Gloom Dragons, thereby reducing Bjorn of Uln to a historical footnote! You are, truly, a Knight of great renown."
For completing this quest you will get

4,250 Coins and

85 XP. This concludes the A Knight's Tale story line.
X is pulling rank!
X has become a Renowned Knight of the realm!
Grab a Wood Club that X used during training.
Ad blocker interference detected!
Wikia is a free-to-use site that makes money from advertising. We have a modified experience for viewers using ad blockers

Wikia is not accessible if you've made further modifications. Remove the custom ad blocker rule(s) and the page will load as expected.