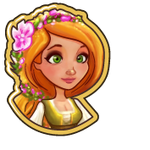 "Looks like Ben is hungry! And he claims to have an appetite that rival the Duke's!"
"Giant Appetites" is quest 6 out of 10 in the A Force of Nature questline. You get it from Yvette after completing "A Blossoming Friendship".
Tasks
Have 5 Barrels of Ranch to put on a BIG salad for Ben.

Ask Friends for Barrels of Ranch.

Harvest 8 Cabbage for the salad.

Click on Empty Farm Plots to plant rops.

Craft 2 Sweet Buns for dessert.

Craft in the Kitchen.
Reward
"Amazing! I've never seen anything like it! Ben ate more than the Duke!"
For completing this quest you will get

1,750 Coins and

35 XP. You can then proceed to the It's Always Sunny in CastleVille quest.
Facebook wall post message goes here
Ad blocker interference detected!
Wikia is a free-to-use site that makes money from advertising. We have a modified experience for viewers using ad blockers

Wikia is not accessible if you've made further modifications. Remove the custom ad blocker rule(s) and the page will load as expected.