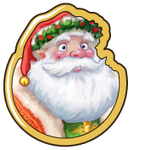 The second of twelve missions in the Save the Holiday quest chain obtained from Kris Kringle. It immediately follows the Sprucing Up mission.
Quest Text
I used Rafael's Blueprint to make the foundation for our Gift-A-Pult, but I need your help to build it!
Tasks
Quest
Goals

Place the Gift-A-Pult foundation from your Inventory.

Find the Gift-A-Pult in your Inventory and place it in your Kingdom.

Plant 2 Pine Tree Saplings to help replace all the wood we will use.

Pine Tree Saplings are in the Nature section of the Market.

Water Pine Tree Saplings 10 times.

You can buy more Saplings from the Market. Saplings need to be watered several times to fully grow.
Reward
When the Gift-A-Pult is finished, we'll be able to launch presents to all the neighboring Kingdoms!
For completing this mission you will get

500 Coins and

10 XP. You will also be able to start the Give 'Em Bell mission.
Ad blocker interference detected!
Wikia is a free-to-use site that makes money from advertising. We have a modified experience for viewers using ad blockers

Wikia is not accessible if you've made further modifications. Remove the custom ad blocker rule(s) and the page will load as expected.