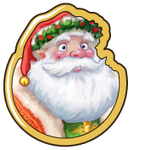 The third of twelve missions in the
Save the Holiday
quest chain obtained from
Kris Kringle
. It immediately follows the
Gift-A-Pult
mission.
Quest Text
Not more Beasties! If they destroy the Gift-A-Pult, Yulefest will be ruined!
Tasks
Quest
Goals

Banish 3 Beasties before they can damage the Gift-A-Pult.

Click on Beasties to Banish them. You could use a Wood Club or Super Clobber to deal more damage with each hit!

Have 2 Silver Bells. Many say that Beasties hate the holiday cheer that ringing bells bring.

Ask Friends for Silver Bells.
Reward
Ho-ho! Those Winter Gloom Goblins are no match for your holiday cheer!
For completing this mission you will get

500 Coins and

10 XP. You will also be able to start the Gifted mission.
Ad blocker interference detected!
Wikia is a free-to-use site that makes money from advertising. We have a modified experience for viewers using ad blockers

Wikia is not accessible if you've made further modifications. Remove the custom ad blocker rule(s) and the page will load as expected.