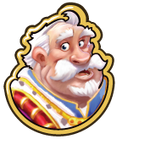 "Prove to the GEEZERS that, when they get around to it, you will be ready to face Faugrimm and his Gloom."
"Gloom Busters" is quest 2 out of 6 in the GEEZERS Tasks III questline. You get it from The Duke after completing "Charity Begins At Home".
Tasks
Have 6 Longbows so you can fight from a distance.

Ask your friends for Longbows.

Craft 4 Steel Swords to banish Beasties.

Craft Steel Swords in a Workshop after you have built a Blacksmith and a Smelter.

Spend 50 Energy fighting Beasties to hone your battle skills.

You can summon Beasties with Beastie Potions.
Reward
"There is no doubt that when the GEEZERS choose to face Faugrimm, they will call on you for assistance!"
For completing this quest you will get

1,750 Coins and

35 XP. You can then proceed to the Supply in Demand quest.

Safe and Sound
X has the safest Kingdom around.
Poke a hole in their defenses and get Stone Blocks to prove it!
Ad blocker interference detected!
Wikia is a free-to-use site that makes money from advertising. We have a modified experience for viewers using ad blockers

Wikia is not accessible if you've made further modifications. Remove the custom ad blocker rule(s) and the page will load as expected.