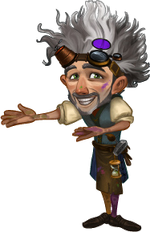 "Now that the modifications are done it's so obvious! We weren't building a Gloom Slurper... we were building a Gloom Converter!"
"Gloom Converter" is quest 7 out of 7 in the Gloom Experiments story line. You get it from Giovanni after completing "Inventing is Hard Work ".
Tasks
Have 7 Lightning in a Jar to fuel the machine.

Ask Friends for Lightning in a Jar.

Finish the Gloom Converter.

Complete the modifications by building the Gloom Converter.

Collect Crystal Shards from the Gloom Converter 3 times.

Click the Gloom Converter to collect from it.
Reward
"Using the Gloom to dispel the Gloom - even for me, that's brilliant!"
For completing this quest you will get

2,500 Coins and

50 XP, as well as 1 Exploration Crystal .

X is fighting Gloom with Gloom!
X is converting the Gloom into Crystal Shards. Brilliant!
Take a Crystal Shard to begin your own exploration.
Ad blocker interference detected!
Wikia is a free-to-use site that makes money from advertising. We have a modified experience for viewers using ad blockers

Wikia is not accessible if you've made further modifications. Remove the custom ad blocker rule(s) and the page will load as expected.