"Being surrounded by Gloom really puts me off my painting. If I just knew more about it, I'm sure I could sort the murky muck out!"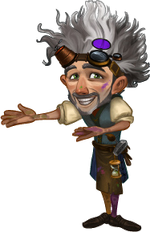 Gloom Investigation
is quest 1 out of 7 in the Gloom Experiments story line. You get it from Giovanni after completing
Grand Design
.
Tasks
Use 1 Beastie Potion to see one up close.

Use any beastie potion from your Inventory, crafted in the Beastie Lab or bought from the Market.

Buy 3 Gloomed Rocks to study how Gloom could penetrate rock.

Buy Gloom Rocks from the Market.

Visit 4 Neighbors to investigate their fight against the gloom.

Task 3 help text goes here
Reward
"Interesting, interesting... well, not really. If we want to learn anything about the Gloom, simple observation is not enough!"
For completing this quest you will get

2,000 Coins and

40 XP. You can then proceed to the A Little Experiment quest.

X has had it with all this Gloom!
X is investigating the Gloom. Do some research on your own with an Alchemist Powder.
Ad blocker interference detected!
Wikia is a free-to-use site that makes money from advertising. We have a modified experience for viewers using ad blockers

Wikia is not accessible if you've made further modifications. Remove the custom ad blocker rule(s) and the page will load as expected.