"Everything is covered in gross Swamp Roots! There must be something we can do to clean up this Swamp!"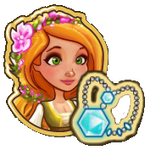 "Gloom Roots!" is quest 3 out of 10 in the
Enter: The Gloom Swamp!
story line. You get it from
Yvette
after completing
Fit for a Swamp
.
Tasks
Quest Image
Task
Skip

Have 1 Studio in your Kingdom

You can purchase the Studio in the Crafting section of the Market.

? Crowns
Craft 3 Purity Talismans. They are effective against Swamp Roots!

This item can crafted in the Studio!

? Crowns

Start cleaning up the Gloom Swamp by cleansing 3 Swamp Roots.

Click on a Swamp Root once you have enough Talismans to purify it.

? Crowns
Reward
For completing this mission you will get 1,750 Coins and 35 XP.

"Thanks to these Purity Talismans and your courage, this Swamp almost looks natural again!"

Enter: The Root of evil...
X has discovered it and is on the case.
Take and extra Aquamarine, to help eliminate any Gloom Root problems you might have!

Ad blocker interference detected!
Wikia is a free-to-use site that makes money from advertising. We have a modified experience for viewers using ad blockers

Wikia is not accessible if you've made further modifications. Remove the custom ad blocker rule(s) and the page will load as expected.