This page is not finished and needs more work. You are welcome to help finishing it.
Gloom Vision Goggles is an exploration quest that immediately follows Reeking Havoc.
All this Gloom makes it hard to see where exactly we are exploring.
Search for the Gloom Swamp.
| Quest | Goal |
| --- | --- |
| | Have 4 Eye of Newt to help you see into the Gloom better. |
| | To fight the Gloom, raise your Castle to 320. |
| | Continue to explore into the Gloom. You should be getting close! |

Reward:
1000 Coins, 20 Experience. You will also be able to begin the Eau De Gloom Orc quest.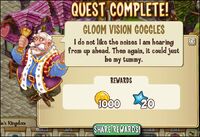 Ad blocker interference detected!
Wikia is a free-to-use site that makes money from advertising. We have a modified experience for viewers using ad blockers

Wikia is not accessible if you've made further modifications. Remove the custom ad blocker rule(s) and the page will load as expected.