"My new fashion line is missing something - ACCESSORIES! I just need a little inspiration..."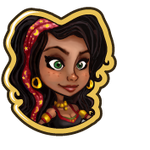 "Gloom to Glam" is quest 1 of 5 in the
Gloom To Glam
story line. You get it from
Izadora
after completing the "
Fashion Forward
" quest in
The Diva
story line at Level 26.
Tasks
Craft 1 Workbench. Izzy's going to need som place to work!

This item can be crafted after you build a Workshop. Buy Crafting buildings in the Market.

Tend Neighbors' Crafting Support Buildings 10 times, looking for new style ideas.

Bakeries, Tailors, Butchers and Mills are examples of some Crafting Support Buildings.

Feed Peacocks 20 times to get inspired by their colors.

Grow animals into adults by feeding them several times. This will earn you a chance at greater rewards.
Notes
Feeding Neighbors' Peacocks also counts toward the 3rd task.
Reward
"I've got some fabulous new designs to bring happiness to your Kingdom. Forget the Gloom - I'm all about GLAM! ...And maybe some sparkles"
For completing this quest you will get

3,250 Coins and

65 XP. This completes Gloom to Glam mission and you can now start the All That Glitters mission.

X likes all the pretty colors.
X is tending Peacocks to give Izadora some color inspiration
Help X tidy up by taking a Blue Feather!
Gallery
Ad blocker interference detected!
Wikia is a free-to-use site that makes money from advertising. We have a modified experience for viewers using ad blockers

Wikia is not accessible if you've made further modifications. Remove the custom ad blocker rule(s) and the page will load as expected.