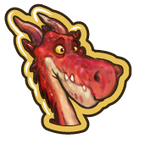 "My egg still has a way to go, but this one is ready to burst! Let me stay in your Kingdom awhile and I'll help you hatch it."
"Glowing Ember" is quest 1 out of 11 in the Little Bundle of Fire story line. You get it from Ember.
Tasks
Place the Dragon Egg from your Inventory.

Place the Dragon Egg from the Decor tab in your Inventory.

Have 3 Wood Logs so Ember can start a fire!

Chop trees to gather Wood.

Have 1 Silver Ore to make her feel at home.

Collect from Mining Camps or mine Rocks for a chance to find Silver Ore.
Reward
"It's important to get rest in now - once the baby hatches, we'll be up all hours!"
For completing this quest you will get

1,000 Coins and

20 XP. You can then proceed to the "Dousing the Flames" quest.

A Dragon's arrived!
Ember just landed in X's Kingdom!
...and boy, are her wings tired! Ember might be winded, but you don't have to be! Click to get Energy!
Ad blocker interference detected!
Wikia is a free-to-use site that makes money from advertising. We have a modified experience for viewers using ad blockers

Wikia is not accessible if you've made further modifications. Remove the custom ad blocker rule(s) and the page will load as expected.